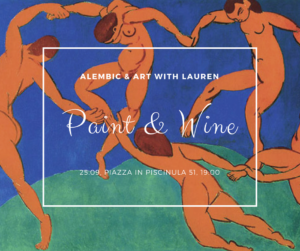 Paint & Wine is a painting class at Alembic that is designed for Italian and English speakers.
During 2,5 hours of step by step instruction, by New York artist, Lauren Lombardo, you will complete a painting you will be proud of. There is absolutely no experience required.
All materials are provided to create your masterpiece ready to hang in your home or gift to a loved one! Apertitivo is included for the event which allows you to further release your creative expression.
The first evening will be dedicated to Henri Matisse and his famous "Danse".
For more info and booking please contact info@alembic.it, +393338402204
---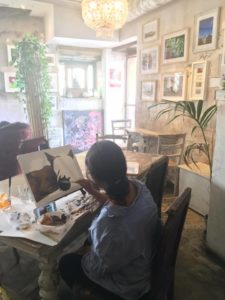 Paint & Wine è un corso di pittura organizzato in Italiano e in Inglese presso l'Alembic. Durante le due ore e mezza di lezione, Lauren Lombardo, artista di New York, vi aiuterà a completare un quadro pronto per essere appeso o regalato a una cara persona.
Non serve nessun esperienza, tutti i materiali saranno forniti da noi.
Nel prezzo è incluso l'aperitivo che vi aiuterà a esprimere la vostra creatività.
Il primo evento sarà dedicato a Henri Matisse e al suo famoso quadro "La Danza"
Per info e prenotazioni: info@alembic.it ,+393338402204